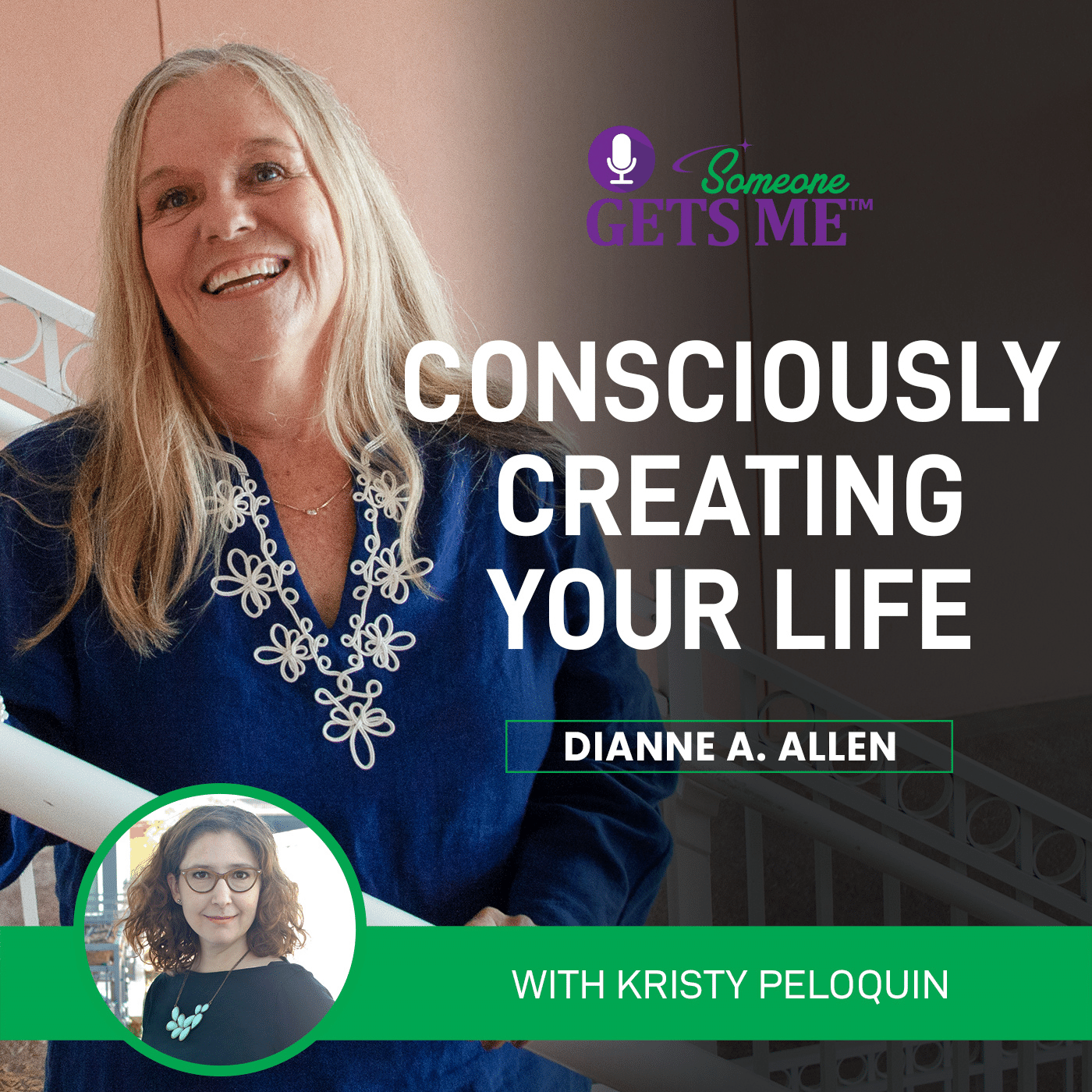 Get ready to sit back and enjoy a fantastic conversation with a woman who's a gifted professor and poet. She is intelligent, creative, and creatively imaginative and runs a nonprofit organization to serve other people to overcome life's hardships with the beauty of words and literature. 
Join me in another awe-inspiring Someone Gets Me podcast and discover how to consciously create the life of your dreams from this amazingly cool lady from Texas – Kristy Peloquin! 
Key points covered in this episode:
✔️ For Kristy, poetry is her knee-jerk reaction to the world. Listen to her story of how she found herself in pain growing up in a very repressive environment & having a breakdown in a job incongruent to what truly resonated in her soul. "I graduated with a degree in poetry directly into the Great Recession and could not find a job. Society was telling me a lot about how my degree was worthless."
✔️ You can blaze your unique creative career path. Understand that pieces of your past that may be incongruent to your true passions can bring value and connectedness into new positions you set your mind on. As a gifted person, take something that doesn't exist in the world, an abstract concept, or an idea, and make something new.
✔️ It takes conscious effort to listen to your intuition. Kristy shares why you should intentionally recognize and trust that thing you hear, that gut instinct. "It's like tuning into a radio station you haven't heard in a while, and it's so amazing when you do; you get lit up inside. But it's easy to hit the dial and go back into a different mode."
✔️ The "G" word and you.  If you're an adult and you were labeled as "gifted," and yet you're not calling yourself that anymore for whatever reason, Kristy shares that it's a great question to ask. "Connect with that definition of yourself, and inquire what would that mean for you? Look into that different part of yourself that needs to come into the light now."
✔️ We must honor all of our weirdness, curiosity, and the things that make us beautiful human beings.  Having some room to be challenged, being your authentic self, or having some authenticity about who you are, including the weird parts, can be a great way to connect with the people in your life, even in your work sphere.
✔️ Keep exploring, finding those things, asking the questions, and trying to meet new people. Societal messaging surrounding being creative is pretty awful. Those in the creative community need to discover podcasts like this or resources and find your tribe of people because you need that support. We're up against old programming that doesn't value what we're about.
About Kristy Peloquin 
Kristy is the founder of Class Libre, a nonprofit organization dedicated to providing humanities education and experiential learning beyond the traditional classroom. 
After earning her MFA in poetry and creative writing from Texas State University, she worked for the Texas Holocaust and Genocide Commission (THGC) as their first-ever staff member. She assisted commissioners in establishing April as Holocaust Awareness and Remembrance month in Texas and oversaw the creation and development of several key educational programs across the state.
Kristy served as Adjunct Assistant Professor of English with Austin Community College for over eight years, during which time she was nominated multiple times for awards in teaching, published several works, and even began a second master's degree in public administration. In addition, Kristy also created curriculum for and led therapeutic creative writing programs for a grief and loss counseling center. In 2019, Kristy joined Pop-Up Birthday, where she is currently the executive director.
Kristy writes poetry as a way of trying to suss out meaning from her life experiences and the experiences of others. Her work explores the line between real and unreal, moments when reality morphs into the surreal. Reoccurring themes in her work include spiritual confusion, trauma, memory, the physical body, and the natural world. Her work has been previously published in The Berkeley Poetry Review, Palimpsest: The Yale Literary and Arts Magazine, Sphere Magazine, Right Hand Pointing, and Midway Journal, among others. Her book "Adrift: A Collection of Poems" was published in 2018.
Connect with Kristy on their website: www.classlibre.org
FB Business Page: https://www.facebook.com/classlibre
FB Personal Page: https://www.facebook.com/kristy.peloquin1
LinkedIn: www.linkedin.com/in/kristy-peloquin
____________________________________________________________________________________
How to Connect with Dianne A. Allen
You have a vision inside to create something bigger than you. What you need is a community and a mentor. The 6-month Visionary Leader Program will move you forward. You will grow, transform and connect. https://msdianneallen.com/
Join our Facebook Group Someone Gets Me
Follow Dianne's Facebook Page: Dianne A. Allen
Email contact: dianne@visionsapplied.com
Dianne's Mentoring Services: msdianneallen.com
Website: www.visionsapplied.com
Be sure to take a second and subscribe to the show and share it with anyone you think will benefit. Until next time, remember the world needs your special gift, so let your light shine!