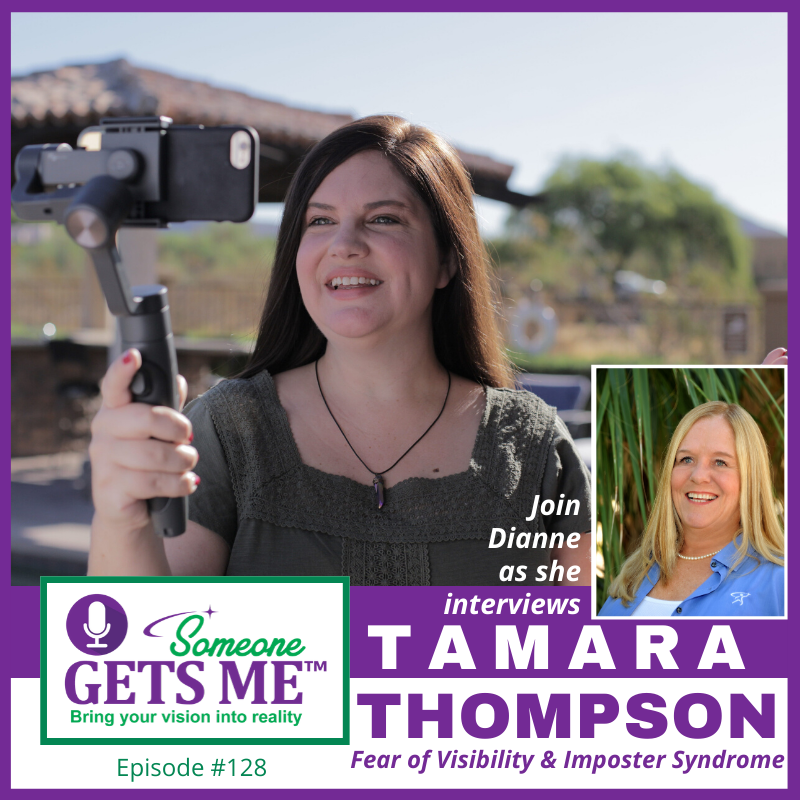 Afraid of being a public persona? You're not alone. Maybe you fear putting something out there because too many people might see it. Or criticize your work. Realize that when we keep playing smaller than we're capable of, we prevent ourselves from living out our mission in life.
There is a visionary leader inside each one of us. In this week's episode, Dianne Allen, together with her special guest, Tamara Thompson, talks about the fear of visibility and imposter syndrome.
Part One of 'Fear of Visibility + Imposter Syndrome'
Tamara Thompson is the CEO of Serious Take Productions, a premium video production company. Business owners hire her to visually and emotionally share their stories. They inspire and establish their authority through media creatively and compellingly, in a way that fits their brand. 
Her clients are in the personal and professional development industry: speakers, coaches, consultants, agency owners that have built a business around their expertise. They have a proven track record of helping transform the lives of clients. They have produced reputable results.
They want help creating videos that help them sell without feeling overly salesy. They want to be positioned as the go-to authority and trusted experts in their field. Some of them may even want practical training on how to create videos, what to say, and how to use video and media to sell more effectively.
Her mission is to turn everyday people into influencers. She helps business owners build a scalable company and become more visible consistently online to attract more clients without having to chase people around or be tech-savvy.
"Storytelling can be used on a grand scale to save lives and inspire a nation." – Tamara Thompson (11:02-11:08)
As you grow up, there are moments when you just feel like your life choices aren't aligned to your true calling. You feel the desire to be seen and heard for who you are. You're probably someone who's been hiding for years when you have so much potential. It's essential to be visible because there are so many people in the world who choose to hide their amazing gifts.
But there's another thing: some people, despite the evident success, have a feeling of inadequacy. They want to position themselves differently on social media than the way they are in their everyday practices. Put yourself out there and don't worry about what other people think. At times you may feel like you're an imposter because what you're doing so good at comes so naturally.
Part Two of 'Fear of Visibility + Imposter Syndrome'
You must be able to share things with people, be vulnerable, and strike that genuine connection. Find more people who can truly understand you and resonate with your story. Show them where you've been, how you've gotten where you are today. Show yourself as the expert.
If this is something that you're struggling with, start recording a video of yourself. Practice, in general, doesn't make things perfect. But it does create considerable progress. If you want to get better, you have to be willing to step out and take a risk. Think about what you're doing to get where you want to go. Come up with a plan to expand.
"Every person has an interesting story to tell." – Dianne Allen 
You have an incredible story to share, and don't let anyone or anything get in the way of you believing that. You have to understand that all stories are meant to be heard. Figure out which story throughout your life path is worth sharing to connect with people on a deeper emotional level. You might ins
Learn More About Tamara Thompson
Tamara Thompson is the CEO of Broadcast Your Authority, a company that specializes in video marketing and all aspects of production. She has directed for major corporations such as Safeway, Microsoft, and Starbucks.
Their mission is to turn everyday people into Influencers. They help business owners become more visible consistently online to attract more clients without having to chase people around or be tech-savvy. 
Website: http://www.broadcastyourauthority.com/home
Instagram: @TamaraThompsonOfficial
Facebook: https://www.facebook.com/DirectorTamaraThompson/
LinkedIn: https://www.linkedin.com/in/tamarathompson-serioustakepro/
Join The Broadcast Your Authority Facebook Group: https://www.facebook.com/groups/broadcastyourauthority/
How To Connect With Dianne A. Allen
You have a vision inside to create something bigger than you. What you need is a community and a mentor. The 6-month Visionary Leader Program will move you forward. You will grow, transform and connect. http://bit.ly/DianneAAllen 
Be sure to take a second and subscribe to the show and share it with anyone you think will benefit. Until next time, remember the world needs your special gift, so let your light shine!