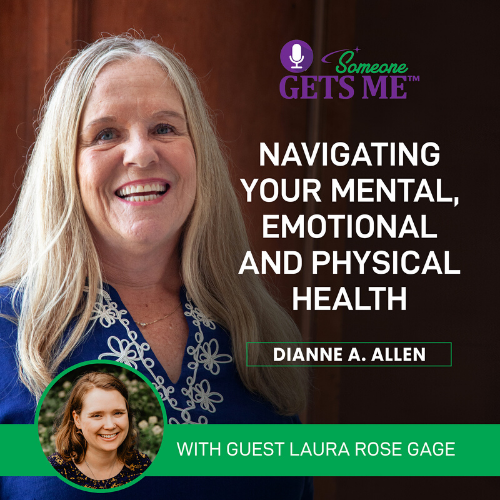 Navigating Your Mental, Emotional and Physical Health with Laura Rose Gage
"We're much bigger than our emotions and our thoughts." — Dianne A. Allen (06:50-06:53)
In this week's episode, we have a young, dynamic guest who has a strong belief about the holistic part of life in a much bigger way. You might want to grab a pen and paper because you're going to want to take notes as we welcome Dianne A. Allen's guest, Laura Rose Gage. Together we navigate, bringing your whole self, soul, mental, emotional, and physical bodies in alignment with each other and Divine Love.
Part One of 'Navigating Your Mental, Emotional and Physical Health with Laura Rose Gage'
Laura's work as herbalist and Chinese Medicine Practitioner, her purpose is two-fold; to help clients understand the language of their souls and deepen their relationship with the Divine, the universe, or God. Our connection with the unconditional love of the universe brings our life into alignment with a heart-led path. 
Our physical, emotional, mental and spiritual symptoms are messages from our True Self. These symptoms can be gentle or alarming, but without translation or a road map, they are confusing and disorienting. Through Chinese Medicine, plant essences, herbs, storytelling and other holistic healing modalities, she helps her clients learn the language of their souls and deepen their connection with the Divine.
"I'm a firm believer that a story can heal someone." – Laura Rose Gage (33:58-34:00)
Laura used to read stories about religions like Buddhism, Islam, and other diverse ways. She remembers being fascinated with the idea of divine or esthetic experience and being raised in a fairly conservative Christian household. She's always been curious how she can experience closeness with the Divine and how it's like to have an extensive understanding of all the different religions out there. 
According to her, it's so important to have those specific rituals and touchstones to access the Divine. However, if you could access even just 10%, it makes this huge difference, especially when dealing with chronic depression and anxiety.
Part Two of 'Navigating Your Mental, Emotional and Physical Health with Laura Rose Gage'
Laura struggled with suicidal ideation and self-injury practices way back to deal with everything. But ever since she started working with her patients, she finally understood that discomfort is okay because it serves as a message from your soul telling that something's off and you're not in alignment.
"You have a choice to live a vibrant, healthy, fulfilling and joyful life." – Dianne A. Allen (55:21-55:32)
Lastly, she does a lot of storytelling, uses a lot of traditional Chinese mythology and fables because these things help us understand archetypes that are at work in our life. She's a firm believer that a story can heal someone.
Every time someone claims that Laura is a lifesaver, she always responds by saying she's like a bridge or connector who happens to have a little more experience on the road, whose goal is to connect them to the Divine.
How To Connect With Laura Rose Gage
https://nestbirthandwellness.com
How to Connect with Dianne Allen
You have a vision inside to create something bigger than you. What you need are a community and a mentor. The 6-month Visionary Leader Program will move you forward. You will grow, transform and connect. http://bit.ly/DianneAAllen
Join our Facebook Group Someone Gets Me
Follow our Dianne's Facebook Page: Dianne A. Allen
Email contact: dianne@visionsapplied.com
Dianne's Mentoring Services: msdianneallen.com
Website: www.visionsapplied.com
Be sure to take a second and subscribe to the show and share it with anyone you think will benefit. Until next time, remember the world needs your special gift, so let your light shine!