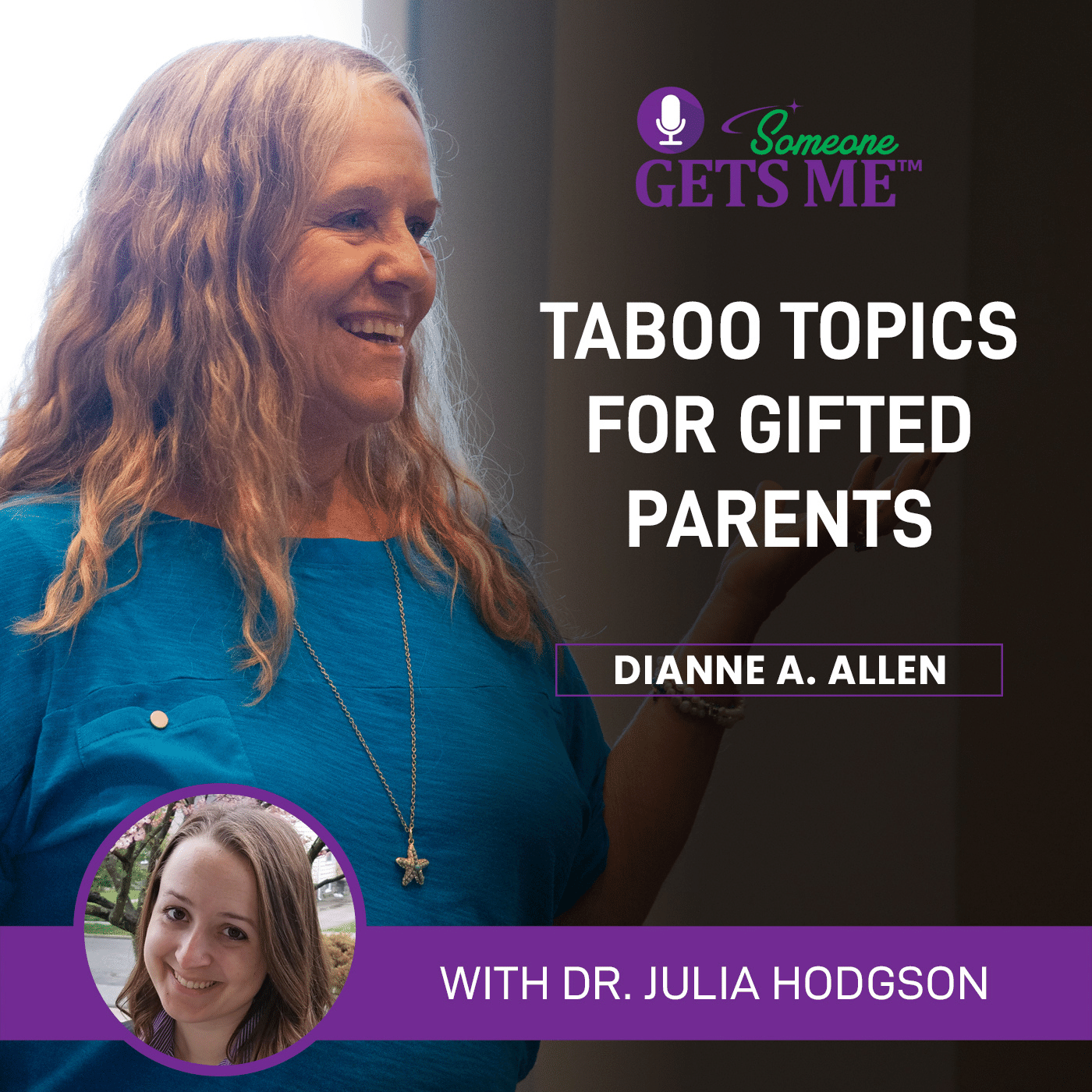 Parenting is a different journey for everyone because there is no one-size-fits-all instruction manual. Parents have the constant feeling of having no clue about what they're doing and being afraid that they will screw up their kids in the process. 
In this episode of Someone Gets Me, Dianne A. Allen engages in an important conversation with Dr. Julia Hodgson, a psychologist, and educator advocating to normalize discussions about taboo topics on pregnancy and parenting and why taking care of yourself is just as essential as the child or children. 
Essential points covered in this episode: 
✔️  Understand why the insecurities of being an imperfect parent can have an impact on your child. It doesn't have to be a shameful thing about your capabilities as a parent as other people are going through similar struggles. 
✔️In her upcoming book, "Pregnancy Confidential," Julia talks about the parenting secrets and taboos that nobody tells you about. She aims to help moms and dads navigate the child-rearing journey from her professional and very personal experience. 
✔️ Keenly listen to your child and do not get too fixated on the "rules" and guidelines expected on how to raise them. Balance the structure with expectations instead of forcing kids to do something that is not working for them. 
✔️Learn to acknowledge that it's okay to have ideals and expectations of how a perfect kid or family should be, but you don't have to beat yourself for it. 
✔️ Being open and honest instead of hiding truths will not shield and protect our children. Be honest and communicate to them at a level that kids can understand.
✔️ Why the taboo about postpartum depression, anxiety, OCD psychosis, and the fact that mental health disorders continue to harm families because it is not talked about enough and  suffering were not intervened and helped out.
✔️ Know that you are doing something difficult yet powerful when you ask for help. A parent, especially a mom, is a superhero doing incredible things, but you are not superhuman.
✔️ Many parents go through difficult times, and it can be tricky and problematic. That doesn't mean you're wrong. Others have the same experience as you.
✔️ Set a foundation by letting children know that possibilities in life aren't limited by gender by being in the language that you use when speaking to them. 
✔️ Teach children that it's good to need help from others. It means you're connected, and it means you're growing and you're expanding. And that's the goal.
About Dr. Julia Hodgson
Dr. Julia Hodgson is a psychologist, writer, and lifelong learner and educator. She serves as the Director of Addiction Psychology at AIDS Care Group and is co-founder of The Neurodiversity Collective. 
Dr. Hodgson has a Doctorate of Clinical Psychology and a Masters of Education in Human Sexuality, both of which she uses to serve her passion for working with marginalized and misunderstood communities. She has specialized in working with people who are pregnant and parenting, acting as an advocate for normalizing discussions about taboo topics and providing support for caregivers. Her most important credential is that she is a mom to a three and one year old, who happily serve as the greatest teachers about parenting she can find.
Website: www.drjuliahodgson.com
Facebook: Dr. Julia Hodgson
Twitter: @DrJuliaParents
----------------------------------------------------------------------------
How to Connect with Dianne A. Allen
You have a vision inside to create something bigger than you. What you need is a community and a mentor. The Someone Gets Me Experience could be that perfect solution to bringing your heart's desire into reality. You will grow, transform and connect. https://msdianneallen.com/someone-gets-me-experience/
Join our Facebook Group Someone Gets Me: https://www.facebook.com/groups/someonegetsme.
Follow Dianne's Facebook Page: Dianne A. Allen: https://www.facebook.com/msdianneallen.
Email contact: dianne@visionsapplied.com
Dianne's Mentoring Services: https://msdianneallen.com
Website: https://www.visionsapplied.com
Be sure to take a second and subscribe to the show and share it with anyone you think will benefit. Until next time, remember the world needs your unique gift, let your light shine.