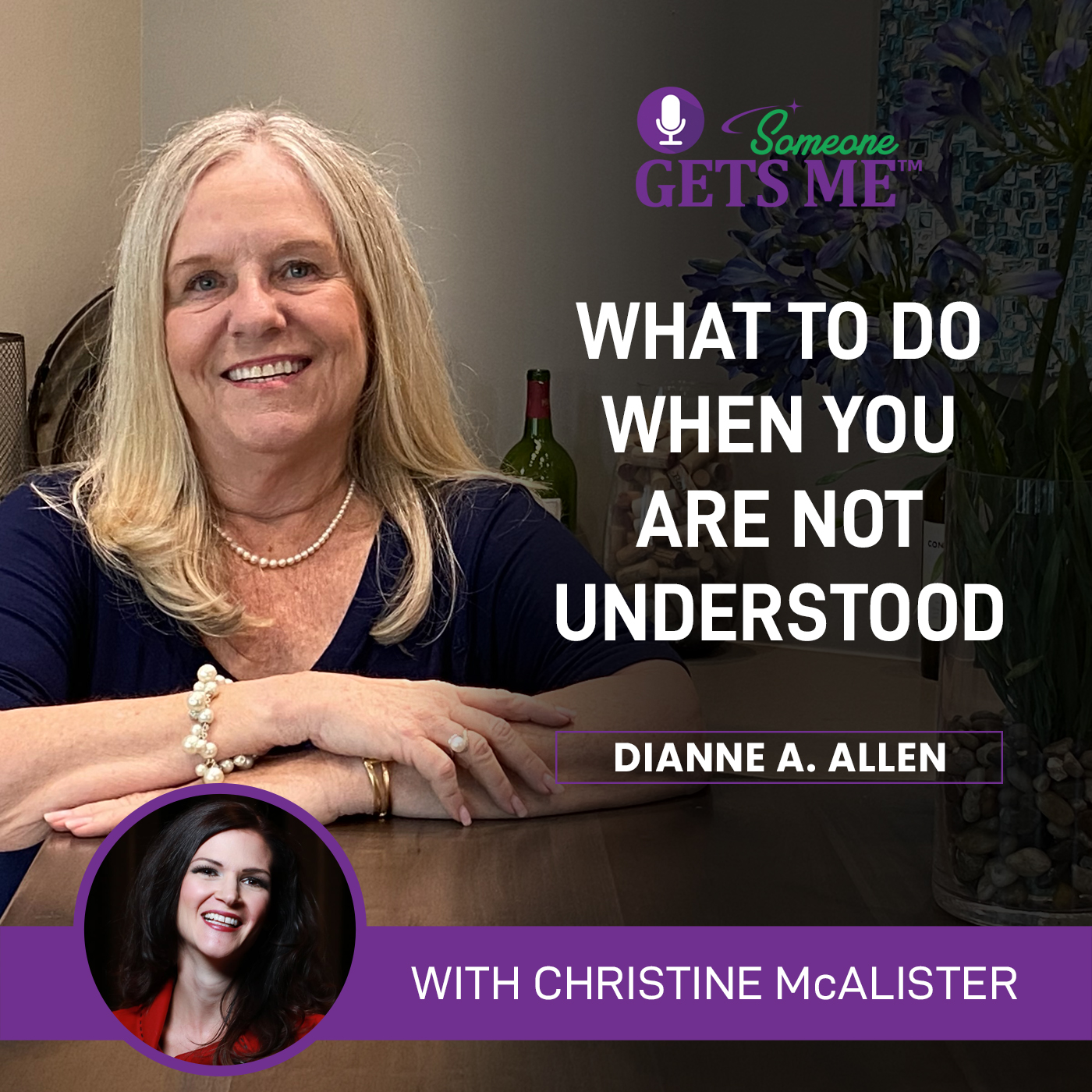 HAVE YOU ALWAYS FELT MISUNDERSTOOD? 
In this value-packed episode of Someone Gets Me, Dianne A Allen shares the screen with a business coach and podcaster, Christine McAlister. She tells her journey of being misunderstood since childhood, shamed for being a leader, navigating self-doubt, and fearing living an inauthentic life.
Learn lessons of personal and professional things to do when you've always seen yourself different, having unique strengths and giftedness and when people don't get you.
Essential points covered in this episode: 
✔️ Remind yourself that you always have a choice. At every moment, you have an option to change the story. Listen to Christine's heart-rending account of having multiple miscarriages and finding the gift of helping other people make sense of their hurts and rebuilding their lives.
✔️ Understand that getting vulnerable, no matter how uncomfortable, is necessary for the service of your purpose. Get grounded with your "why" and your mission. 
✔️Learn how to adapt to your true self and overcome the "not being understood" part of you as your power. Shift into the unique and unforgettable person you already are!
✔️ As you grow, you will redefine a ton of your relationships as you become a different person. Many people will fall away as you use your voice and stand in your power.
✔️ Building real connections with people that you feel drawn to is what makes life fun and done right. Whether that's podcasting, connection calls, or sitting across someone over tea, it always comes down to having meaningful relationships that bring fulfillment. 
✔️ Resonate from Christine's most significant belief: "Clarity and confidence come from action and not from sitting around thinking about it."
About Christine McAlister
Christine is passionate about helping high-achieving coaches + marketers create more impact + income + attract their next clients with the power of their stories, using leveraged organic strategies like podcast guesting. 
She's generated well over six figures as a podcast guest. She has been recognized as the best in the world at podcast guesting by 7-figure founders like John Lee Dumas, Dana Wilde, and Andrew Kroeze. She has been featured in Inc., Business Insider, Bustle, and The Huffington Post and on over 100 podcasts, including twice on Entrepreneurs on Fire.
Website: lifewithpassion.com
Facebook Page: @lifewpassion  
Instagram: @lifewpassion
LinkedIn: Christine McAlister - Queen of Podcast Guesting
----------------------------------------------------------------------------
How to Connect with Dianne A. Allen
You have a vision inside to create something bigger than you. What you need is a community and a mentor. The Someone Gets Me Experience could be that perfect solution to bringing your heart's desire into reality. You will grow, transform and connect. https://msdianneallen.com/someone-gets-me-experience/
Join our Facebook Group Someone Gets Me: https://www.facebook.com/groups/someonegetsme.
Follow Dianne's Facebook Page: Dianne A. Allen: https://www.facebook.com/msdianneallen.
Email contact: dianne@visionsapplied.com
Dianne's Mentoring Services: https://msdianneallen.com
Website: https://www.visionsapplied.com
Be sure to take a second and subscribe to the show and share it with anyone you think will benefit. Until next time, remember the world needs your unique gift, let your light shine.